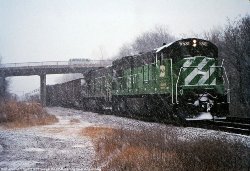 Welcome to the RRPictureArchives.NET contributor site of Joel Armstrong.



Welcome to my page. These are mostly shots, that I took with various slide film, from my automatic Nicon Zoom Touch 470. The majority of these shots, were taken back in 1995 through 2002. I know some of my shots have poor exposure. My little Nicon camera, didn't care much for any speed of slide film. Unless it was a, "not a cloud in the sky kinda day." But back then I didn't care. I always thought. "A poor shot is better than no shot!!!!"

In my youth, I loved the FRISCO, and that love has stuck with me ever since. And since Tulsa, Oklahoma is my berth place. A key Frisco town, (still very important to BNSF too) it was natural to enjoy the sound of Frisco's famous Leslie SuperTyfon S-5T's!!! Most of my shots are from Tulsa's Cherokee Yard, and surrounding areas. Showing the creation of the BNSF merger. Lot's of pure BN, and Santa Fe. As well a visit from Frisco 1522. So go ahead and take a look. Go back in time, and see some trains the way, "it was". Through the lens of an automatic camera. Thanks Joel



You may browse my collection of pictures via the menu located on the left hand side of the page. I hope you enjoy the collection and thanks for stopping by!